Home » Outlook Express Passwords Recovery
Outlook Express Passwords Recovery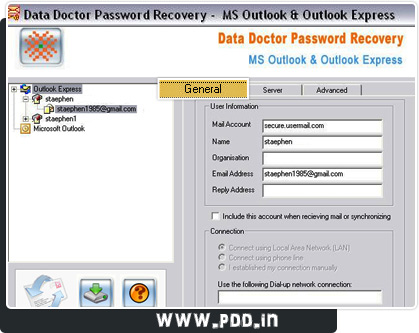 Order Here
Download Here

For Download Free Trial Contact us at:

support@pdd.in

Price : $38
Quick Info
Outlook Express Passwords Recovery software recover all lost or forgotten outlook and outlook express saved passwords. Once you have installed the product on your computer: E-mail passwords, identity passwords, logins account passwords will be recovered within seconds. If you have forgotten or lost your Outlook and Outlook Express email account passwords? Just install the software and the program will recover all your Outlook and Outlook Express passwords instantly.
The Password Recovery is simple to use and very useful utility. Your recovered password information can be easily saved, so that you can work with it later. The password recovery software is an efficient way to bring your lost mail password back when it all seems to be over, when you are very much trying to get at your e-mail box.
Key Features
Recovers lost Microsoft Outlook and Outlook Express E-Mail account passwords.
Recover your lost Microsoft Outlook and Outlook Express Identities Password instantly.
Provide server information records (i.e. Incoming server and Out going server).
Recover Incoming Mail and Outgoing Mail Server (Account Name, Password).
Facilitate to save all above record setting in a text file for future reference.
Recover Server Port Number Setting for advance users.
Data Doctor Password Recovery - MS Outlook and Outlook Express works on Windows 98, NT, 2000 Professional, Vista and XP versions.
Support all versions of MS Outlook and Outlook Express.
Easy to use with user friendly GUI interface.