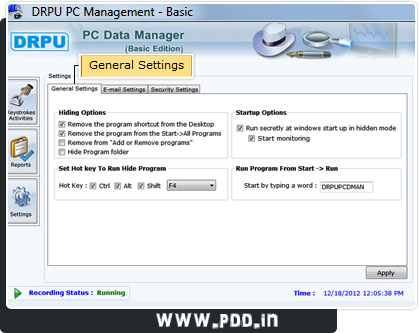 Price : $45

Multi PC License

2 PC License
$85
5 PC License
$175
10 PC License
$270
Corporate License
$369
Quick Info
Key Logger Software is monitoring tool for your home or office PC activities. It is the convenient solution for personal usage, business usage to track what your kids, family members or co-employees are doing on computer in your absence. This hidden key board strokes recording software can secretly record typed keystrokes including email, username, passwords, chat conversation, documents list and other keyboard typing activities in encrypted log file.
Professional Keyboard monitoring utility provides facility to send encrypted log file to user predefined email address, making it possible to monitor your computer from anywhere. Keylogger can be easily install and run in standard and hidden mode (unrecognized during monitoring session). Key logger is undetected in the Desktop, Add remove program list, Start menu, Task manager and even hides the installation folder path so that external user is unable to identify keylogger installation on PC and you can be sure that your monitoring activity is not exposed.
Key Features:
Easily and secretly monitor entire typed keystrokes on your computer system.
Records typed keystrokes including text document list, e-mails, instant messages, login id, password, online chat and more.
Provide facility to set hot key and run command to access Keylogger application if runs in hidden mode.
Key logger works in Standard and Hidden mode.
Software invisibly runs in Desktop, Start menu, Add/Remove program list and software installation file.
The software is password protected and prevents other to change its configuration setting.
Facilitate to view every input keystrokes and you can also view only printing keystrokes.
Provide extremely easy to use graphical user interface and does not require any prior technical skills and training.
Key logger software is compatible with Microsoft Windows Vista, XP, 2000, 2003, ME, NT, 98.