Home »

Internet History Eraser
Internet History Eraser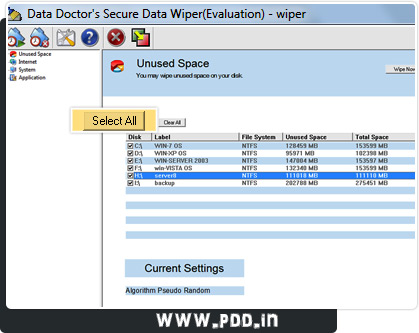 Quick Info
Your computer is tracking all your internet activities/actions and saves the records on the hard disk. Anyone else can access your personal data and see what you have been doing on Internet and the website visited, even everything you did on your computer. Internet History Eraser software protects your Computer privacy by permanently deleting records of your internet traces and long-ago computer history. The program is very easy to use and with just one click it erases your internet history permanently.
The Software allows you to delete address bar, cookies and temporary internet files of your internet explorer browser. Do you know Windows are storing hidden records of everything you are doing on the Internet? Do you want yours those records to be exposed? This cleanup tool works on all Windows system. The eraser support both FAT and NTFS file system and is fully tested to the latest standards that once deleted with Internet history eraser; your secret data can not be recovered back again.
Key Features
Clean hard disk and frees up the disk space.
Secure erasing of your internet activities.
Erase your internet history cookies.
Delete temporary internet files.
Safeguard the risk of accessing your private records.
Data erasing with in seconds time.
The software is very easy to use and operate.